March 14, 2022
What is a Hydrafacial Treatment?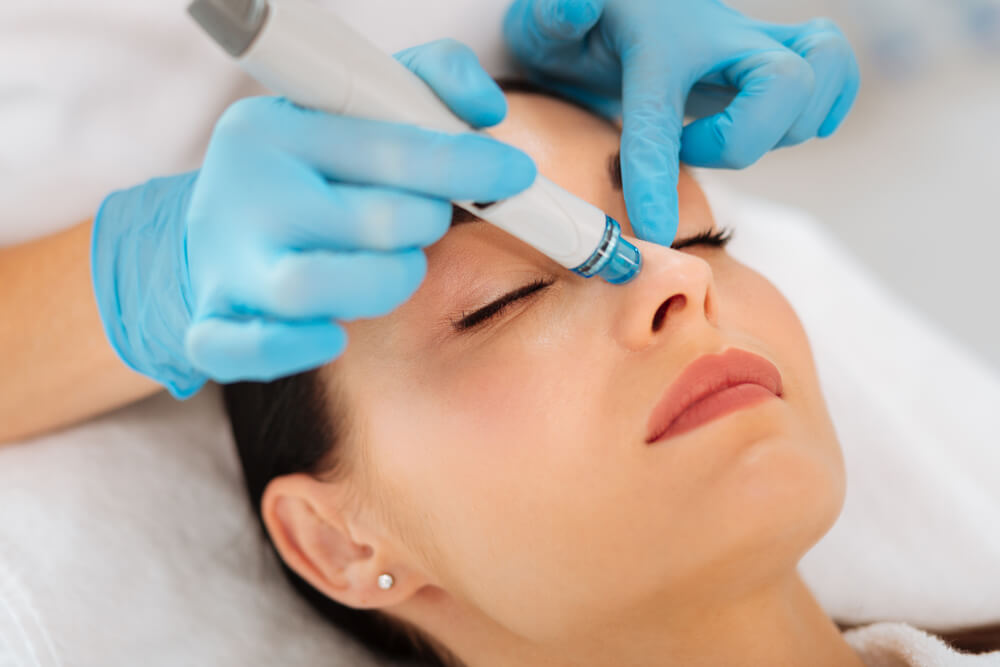 Not everyone knows what a hydrafacial treatment is. If you have heard of hydrafacial, you may want to know what it means. Hydrafacials are becoming increasingly popular. According to The Skin Shop MedSpa Scottsdale, a popular Scottsdale Med Spa, internationally, one hydrafacial is done every 15 seconds. Let's learn more about hydrafacials and what they are.
What is a Hydrafacial Treatment? 
A hydrafacial treatment is a facial treatment. It helps to remove dead skin cells. It extracts impurities. The serums that are used are meant to cleanse, hydrate and moisturize.
What is the Process of a Hydrafacial Treatment?
According to the Hydrafacial website, there are three main parts of the process.
First, there is a cleanse and peel. Gentle exfoliation and resurfacing are done in this step. It uncovers a new layer of skin.
Next, there is an extract and hydrate step. In this step, debris is removed from the pores via a painless suction device. Then, intense moisturizers are used.
Finally, the treatment wraps up with fusing and protecting. In this step, the skin is saturated with peptides and antioxidants. This helps to promote a healthy glow.
What Skin Types Are Hydrafacial Treatments for?
Hydrafacial treatments are designed for all skin types. Even people with sensitive skin can have this treatment done.
The physician or skincare professional can tailor it to your needs. Different serums are used for different skin types. You can have a skin evaluation and sensitivity test done. You would get this from a doctor or a skincare professional.
What Skin Concerns Does a Hydrafacial Treatment Help With?
A hydrafacial treatment helps with many skin concerns. This includes:
Fine lines
Wrinkles
Dark spots
Clogged pores
Mild acne
Oily skin
Hyperpigmentation
Enlarged pores
Where Can You Get a Hydrafacial Treatment?
The official hydrafacial website offers a locator. This can help you to find a location near you. It is available at spas and doctors' offices. With its growing popularity, hydrafacial treatments are becoming more available.
What is the Cost of a Hydrafacial Treatment?
According to Zwivel, a hydrafacial treatment costs $150 to $300. Keep in mind that this can vary by your location, the doctor you go to, and other factors. It can be helpful to contact the doctor or skincare professional ahead of time. You can then find out about pricing and talk about any concerns.
Hydrafacials are one of the more affordable skincare treatments available. They are also non-invasive.
Who Are Hydrafacial Treatments for?  
People of all types can benefit from hydrafacial treatments. It helps with acne for teenagers. It helps adults who have wrinkles. It can even help older people who have sun damage.
Almost anyone can benefit from a hydrafacial treatment.
How Long Does a Hydrafacial Treatment Take?
A hydrafacial treatment can take as little as 30 minutes. The duration of the treatment can depend on where you get it done. It is a quick treatment.
How Quickly Can You See the Effects of a Hydrafacial Treatment?
The treatment shows its effects immediately. It is also non-irritating and soothing. Your skin will look fresh and beautiful soon after the treatment.
What Are the Benefits of a Hydrafacial Treatment?  
As mentioned, hydrafacial treatments can help with many skin concerns. There are some benefits to having a hydrafacial treatment, including:
It is customizable. The serums used are customized to your skin. They can be tailored to your needs.
It is non-invasive. This means that there are few side effects and there is no pain.
There is zero downtime. You can see the difference when you leave the spa or doctors' office.
Side Effects of a Hydrafacial Treatment
According to MetDaan, people experience redness after a hydrafacial. Some people do not experience any redness at all. There are no other side effects of having a hydrafacial treatment.
Do Hydrafacial Treatments Hurt? 
No, hydrafacials do not hurt. Because hydrafacials are non-invasive, the skin is not punctured.
How Long Do the Results of a Hydrafacial Treatment Last?
Hydrafacial treatment results last up to a week. You should get a monthly treatment. This will help the results to last longer. Maintenance appointments are recommended.
How Often Can You Get a Hydrafacial Treatment?  
It is recommended that you get a hydrafacial treatment every four weeks. You need to allow your skin to fully heal between each session. How long this takes can vary by your age, your skin, and the environment.
It can be helpful to talk to your doctor or skincare professional about the frequency. They can help you decide what is best for your skin.
Conclusion
Hydrafacial treatments can be very beneficial. This includes help with hyperpigmentation, clogged pores, and more.  If you currently have those skin concerns, a hydrafacial treatment may be right for you. There are no side effects except for redness. It is a non-invasive treatment that causes no pain.